Will Your iPhone 9 Be Powered By a Nuclear Betavoltaic Battery?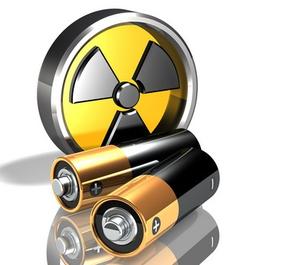 Recent advances in an alternative battery technology using Betavoltaics could potentially power future cars and spaceships using electrons from radioactive decay.
Betavoltaics is not a brand new idea, it's over 50 years old. If you needed a pacemaker in the 1970s it may have been powered by this technology until cheaper more conventional batteries became popular.. Nuclear energies employed in common products are more prevalent than you may think. For example, some emergency exit signs rely on radioluminescence to light up during a power outage using the radioactive decay of tritium to light the sign. Common smoke detectors used in countless households create a small amount of current by using the alpha radiation produced by the radioactive isotope Americium-241. The knee-jerk negative reaction most people have to the word radiation and nuclear is often unfounded. 
Betavoltaics works as a battery by converting beta particles (high energy electrons) produced by radioactive decay into usable current. This process starts when a neutron in a radioactive atom spontaneously converts into proton. Protons are less massive than a neutron so where does that extra mass go? Into the creation of an electron (plus a neutrino). This is beta decay and it is mediated by one of my least favorite fundamental forces of nature called the weak force or weak interaction.
Betavoltaics has never found widespread use though because it has the following issues.  
It is not very efficient…suitable mainly for low power applications, especially in remote locations.
The power output decreases over time. This is related to half-life (not the game)
The radiation released usually damages sensitive semiconductors.
The common negative perception of radiation or nuclear-based products.
The potential upsides though are a Siren song to researchers because Betavoltaics can last for years without being replaced and also work in hazardous environments that conventional batteries could not.
Researchers at the University of Missouri though have made significant progress in tackling some of these issues especially regarding efficiency. They accomplished this by using radioactive strontium-90 and for the first time, a water-based solution. Water is key here for a couple of reasons. First of all it is a great shield against radiation. So much so that it is often used in nuclear reactors to tame nasty radiation and prevent overheating and potential meltdowns. Water then can prevent unwanted radiation from damaging sensitive electronics. The water will therefore have within it a tremendous amount of stored radiation energy infused within it and it is the exploitation of this untapped and previously unstudied resource that seems to be the primary breakthrough here.
Who knows what will become of this. I've learned not to get my hopes up when it comes to the weekly announcements of the "Latest Breakthrough in Battery Technology".  There are of course many ways this could fail. For example, a nuclear battery like this would not be inherently dangerous but what about intentional mishandling or plain old stupidity. I do like the idea however that this advance uses a completely different approach to battery technology than conventional lithium-ion batteries that we're always reading about. The more irons in the fire the better. Just hurry up please.
Technical Paper