Tiny Spider Hunts Giant Ants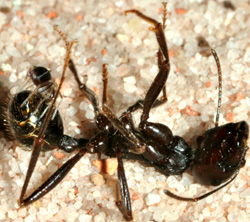 Predators rarely routinely hunt much larger prey. An exception to this is the Zodarion cyrenaicum spider from the Negev desert in Israel. Researchers recently showed how even the juveniles use a powerful venom to paralyze the much larger Messor arenarius ant with a single bite.
The Zodarion spiders are venomous and feed on ants. Often, however, the juveniles will feast on smaller ants, and as they grow they switch to larger ant species. In the cyrenaicum spider, however, even the juveniles will hunt the arenarius ant exclusively, even though these ants for four times larger.
They are able to do this because, even as juveniles, they have potent venom and are able to paralyze the much larger ants with a single bite. The venom of the juvenile is as potent as the adult spider, although the volume is less so it takes a bit longer (about 1.5 times as long) for the paralysis to take effect.
Adult female spider attack by hit and run – biting their prey, then retreating to avoid retaliation by the ant before it is paralyzed. The juveniles, however, climb onto the abdomen of the ant and then paralyze it, avoiding retaliation by clinging to the underside of the soon-paralyzed food.