The MAVEN Martian Satellite Is Alive, In Orbit, And Ready To Get Down To Business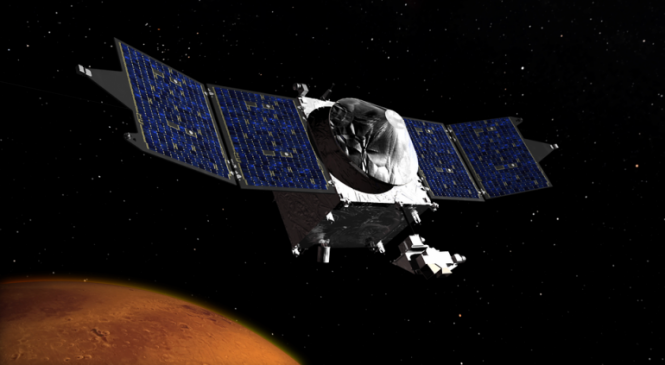 NASA's MAVEN satellite has survived its orbital insertion around Mars and will soon be ready to relay back to earth details about how extreme climate change caused its atmosphere to go from a warm wet planet to a very cold and dry one.
MAVEN stands for Mars Atmosphere and Volatile Evolution. The first two words are easy enough to understand (they'd better be) but the last two may be more abstruse. They refer to the changes over time of the compounds in the atmosphere like water and carbon dioxide as they readily convert to forms that easily escape the grip of the planet. MAVEN will be the first Mars mission to specifically examine the Martian upper atmosphere and try to figure out its evolution and how it impacted the evolution of the planet.
Before any of that could happen though, a mind boggling amount of effort and money was required. It took over a decade of intense planning, construction, and meticulous effort just to get this thing on the launch pad last year. Once that work was done, another 10 month waiting period was required while the bus-sized 5,000 pound device hurtled through deep space at at speeds approaching 16,000 kilometers per hour. At that speed, any attempts to get into an orbit around Mars would result in MAVEN either passing easily by the mighty gravitational field of Mars or simply slamming into the planet. Slowing down required what's called an orbit insertion burn in which rockets were fired in the direction of travel to shed excess velocity. This brought the craft down to a stately 4,400 kph allowing it to safely achieve the proper orbit. The burn required to achieve this took 34 minutes and 26 seconds which was only an amazing 11 seconds longer than anticipated.
This critical phase of a mission always has me thinking of the poor scientists, astronomers and engineers who have to endure the interminable wait for the burn to finish and the slow speed of the light signal signaling a success (or a lack of one indicating a failure). Catastrophic failures such as this have occurred all too often for Mars missions in the past. Such events not only mean exquisitely bitter disappointment but also the loss of: millions of dollars, countless man-hours of effort, a chance for ground-breaking scientific discovery, and a career trajectory forever altered and sometimes tragically truncated. Imagine that your job promised years of interesting and fruitful work and then one day it's all swept away because your car broke down trying to park in the parking lot.
Orbit insertion burns using chemical rockets are not the only options available to NASA for attaining a stabilized orbit, though it is the most tried and true. Ion thrusters or plasma propulsion engines could have accomplished the same goal with less fuel (thought it would take longer). In the future, electrically conducting tethers might be used which magnetically repel a planet's magnetic field to bleed away excess velocity. This would be a problem with Mars though since it doesn't have a magnetic field. I could also suggest entering orbit by disengaging the warp drive and using the fusion-powered impulse engines but that would just be silly.
Now that MAVEN is in orbit it will take another six weeks for flight controllers to fully test the eight primary instruments and tweak its orbit bringing it ,at times, lower than 160 km from the surface. During this time MAVEN will be used along with other craft already in orbit to study the comet Siding Spring which will come an astonishingly close 132,000 km from the planet. This once in a million year event should provide a wealth of information not only about comets themselves but how its tail impacts the atmosphere of a planet.
After all this is accomplished, around early November, it's time for MAVEN's main mission to begin. This will entail hanging out in the upper atmosphere, studying its properties and structure and how it all interacts with the solar radiation and electrically charged particles that have been relentlessly pelting it for billions of years. All of this will help answer one of the primary missions of MAVEN which is to answer what happened to all the volatiles like water and carbon dioxide that likely existed in abundance on the young wet Mars but somehow are no longer evident. Did they migrate into the crust of the planet or escape into the vacuum of space and how precisely did that happen? Only time and MAVEN will tell.
Image Credit: NASA