Solar Freakin' Bike Path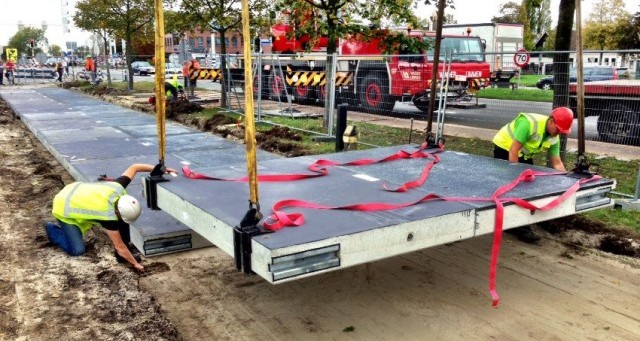 Earlier this year a company made headlines with their crowdfunding campaign for "solar freakin' roadways."  Now a Dutch company has beat them to the punch, sort of, by building a solar bike path. The project is likely to increase, rather than resolve, the controversy surrounding the idea.
The point of paving roads with solar panels is to improve the roads and to generate electricity for the grid. By some estimates, if the US replaced its entire road, parking lot, driveway, and sidewalk infrastructure with solar pavers this would generate enough electricity to provide three times the total US use of electricity. In addition, powered roads could provide extra functions, such as LED lighting, heaters to melt snow and ice, on the fly reconfiguring of lanes and parking areas, and real-time warning of obstacles in the road.
Critics, however, point out that solar roadways would be excessively expensive and therefore not cost effective. The primary reason for the extra cost is that the solar pavers would have to be engineered to withstand whatever traffic they are subjected to. At the very least we should pick the lower hanging fruit and put solar panels on all our rooftops first. There is also the problem of storing electrical energy for use when the sun is not shining, and transmitting power from remote areas to where it is needed.
The Dutch company, Solaroad, opened their bike path yesterday, November 12th. The path is 230 feet long and "is made up of rows of crystalline silicon solar cells, encased within concrete and covered with a translucent layer of tempered glass." It is designed to withstand bike and foot traffic. They plan to extend the path to 330 feet by 2016. When complete the bike path will cost 3.7 million dollars and will generate enough electricity to power three homes.
This is not cost effective, even at optimal function. It also remains to be seen what the real world efficiency of such solar panels will be, once factors such as dirt and ice take their toll.
It remains doubtful that solar roadways will be a cost effective solution to our energy needs, at least anytime soon. They may find a niche use, however. Solar pavers may be useful as self-powered road sensors or for lighting, for example. Real world tests, like the Dutch bike path, will likely determine the future of this idea.
Source: http://www.vox.com/2014/11/11/7193737/solar-power-bike-path-netherlands-solaroad