SGU Science Pic Of The Week: Jupiter Aurora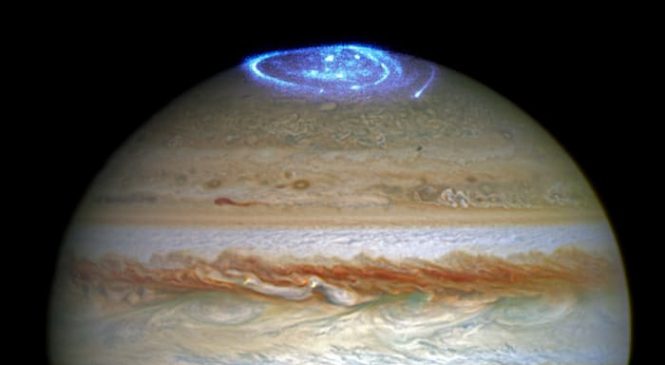 It's hard to beat this picture for sheer jovian awesomeness.
This is a recent image taken by the Hubble Space telescope of an aurora over one of Jupiter's poles. Actually, it's only kinda recent. It's really a composite image. The Jupiter part of the picture is from an optical image taken in 2014 and the aurora itself was imaged earlier this year by Hubble's ultraviolet sensors.
Auroras typically happen when charged particles (ions and electrons) in the sun's solar wind interact with a planetary magnetic field. These high-energy particles glide down the magnetic field lines and collide with the various gasses in the atmosphere near the poles. It is these collisions that excite the gasses and emit light that we can see and enjoy as auroras.
These gorgeous shimmering curtains of light are a site to behold and I strongly urge anyone within driving distance to see them if given the opportunity.
The aurora you see above is certainly not earthbound but it is produced the same way as those on earth. There are however some obvious and some subtle differences. First of all. it's fraggin huge. Look at that thing. You can fit multiple entire earths in the area encompassed by those lights. Secondly, the solar wind only contributes to Jupiter's auroras. Extra ions are actually supplied by some of the Galilean moons of Jupiter, especially Io, which conveniently provides them due to its high volcanic activity.
Oh, in case you were wondering…Saturn has Auroras too
Video of Jupiter Aurora
Image Credits: NASA, ESA, and J. Nichols (University of Leicester)
NASA/JPL/Univ of Arizona/Univ of Leicester