Kermit the Frog Here- er, Costa Rica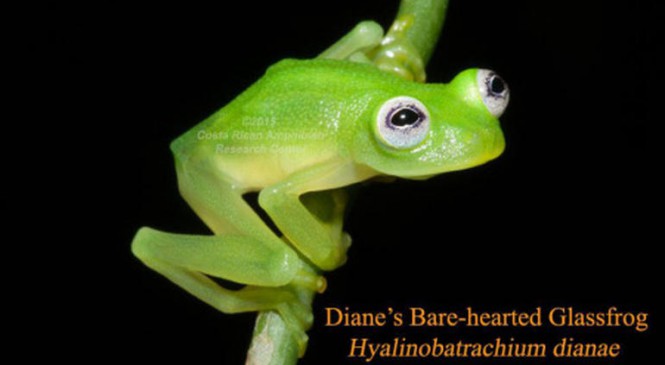 This week we have another newly-discovered species, a beautiful frog called Hyalinobatrachium dianae or Diane's bare-hearted glass frog (after the mother of Brian Kubicki, author of the study describing the species published in Zootaxa). The interwebs are super excited about this one because it looks like the Muppet Kermit the Frog. The resemblance is  due to the large white eyes and dark irises protruding from the head and the distinct green color on the frog's back.
Glass frogs are named thus because of their translucent belly. There are now 14 different species of glass frogs in Costa Rica alone, but a new species hasn't been discovered there since 1973.
Distinguishing new species is not trivial; Kubicki specified eight characteristics distinguishing the specimens he collected from other frogs in the genus Hyalinobatrachium. In case you wondered what they are, I am quoting them here as I dare not paraphrase:
(1) snout truncate in dorsal and lateral views; (2) granular dorsal skin; (3) parietal and cardial peritonea transparent; (4) hand webbing formula III 2- –2+ IV; (5) in life having a uniform lime green dorsal surface that lacks any evident light or dark spots; (6) iris coloration silvery-whitewith fine dark spots or reticulation; (7) advertisement call consisting of a single tonal long metallic whistlelike note with a duration of 0.40–0.55 s (average 0.501 s) and a dominant frequency of 3.35–3.44 kHz (average 3.39 kHz); (8) highly divergent DNA sequences for the mitochondrial gene COI from other analysed members of the genus Hyalinobatrachium, with 12.4% divergence from its closest known species, Hyalinobatrachium chirripoi.
Glass frogs are generally tiny and delicate, growing no more than an inch, and making them good indicators of the health of an ecosystem. With 121 known species worldwide, they typically are found in lowland forests and tropical regions. Diane's bare-hearted glass frog is only known to live in three locations in the Costa Rican foothills.
And since I saw a rainbow today, all this talk of Kermit has this video on my mind.
Images from the Costa Rican Amphibian Research Center