GM Flies for Pest Control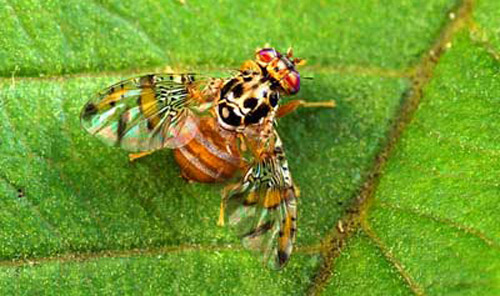 The Mediterranean fruit fly is a real pest. In fact it harms over 300 fruits, vegetables, and nuts. Pest control is always a challenge, and so scientists have been getting creative.
One method for controlling populations is to release sterile males into the wild (sterile insect technique, or SIT) They mate with females but do not produce offspring. SIT works but is limited – sterile males do not perform well, likely due to the irradiation process for sterilization.
Researchers report a proof of concept study for a new technique – release of insects carrying a dominant lethal (RIDL). In this case they genetically engineered males so that they will only have male offspring. A mutation kills off all the females. In their tests, releasing the RIDL males into a population leads to a dramatic decline in medfly numbers over time. They are now seeking approval for field trials.
As with any new technology, especially involving genetically modified animals released into the wild, there are concerns. The researcher use tetracycline to turn off the mutation while breeding the GM flies for release. Exposure to tetracycline in the field is possible as it is used as an antibacterial on some crops. There is always the concern that the flies will evolve resistance to the new mutation (life finds a way). And of course there is the generic resistance to anything genetically modified.
The company, Oxitec, has already conducted field trials of GM mosquitoes used to reduce the spread of dengue fever, and similar strategies are being tested to reduce malaria.
No one technology for pest control is ever going to be perfect, but results so far are encouraging that GM insects can be used to reduce pest and disease vector populations to levels that can then be handled easier by other pest-control techniques.
Source: Genetic elimination of field-cage populations of Mediterranean fruit flies