Freaky Frog Parenting, Extinction, and Cloning Attempts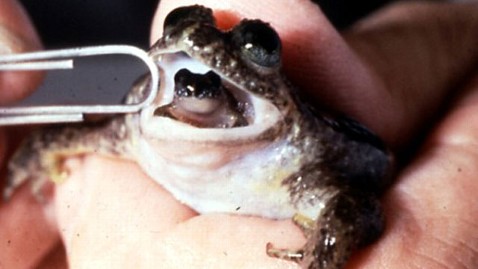 Gastric-brooding frogs, also known as platypus frogs, were a genus of frogs native to Australia containing two species. The use of past tense refers to the extinction of both species at some point during the 1980s. It was not a surprising event given that the entire known range of both species was less than 2,000 square kilometers, though it is uncertain; like many extinctions it is generally attributed to habitat loss and pollution because humans are huge jerks.
The interesting thing about these frogs was their unusual incubation procedure; these two species were the only known frogs that incubated offspring in the stomach of the mother.
The eggs were fertilized in the usual froggy way and then swallowed by the female. When a layer of goo called prostaglandin surrounding each egg interacted with the stomach chemistry it turned off hydrochloric acid production in the stomach, allowing the eggs to develop. The eggs would hatch and the tadpoles would excrete mucous that would keep the stomach from functioning. As the tadpoles developed the mother would increase in size, the stomach would collapse the lungs as she relied on her skin for breathing. Eventually when the tadpoles had developed into teeny fully-formed little frogs, the mother would slowly regurgitate the babies during a procedure that could take as long as a week to complete. The mother would, however, barf up the whole lot if frightened or disturbed.
I guess next time your mom guilts you about how long she was in labor you can tell her to be glad that she didn't have to puke you up like a platypus frog.
Sadly though, we have limited information about these amphibious matryoshka dolls as they no longer inhabit this planet.
In 2013 the "Lazarus Project" at the University of Newcastle in Australia reconstructed the genome of the gastric-brooding frog by recovering cell nuclei from a decades-old sample and placing it in the cells of a related great barred frog. They used these cells to develop embryos that they managed to keep alive for a few days. So nothing, but slightly more progress than the whole woolly mammoth thing.
Source: Encyclopedia of Life
Photo Credit: Michael J.Tyler/University of Adelaide